Announcements!
Somerset Academy Panther Marching Band
"The House"   
2013 CLASS Aa
STATE CHAMPIONS!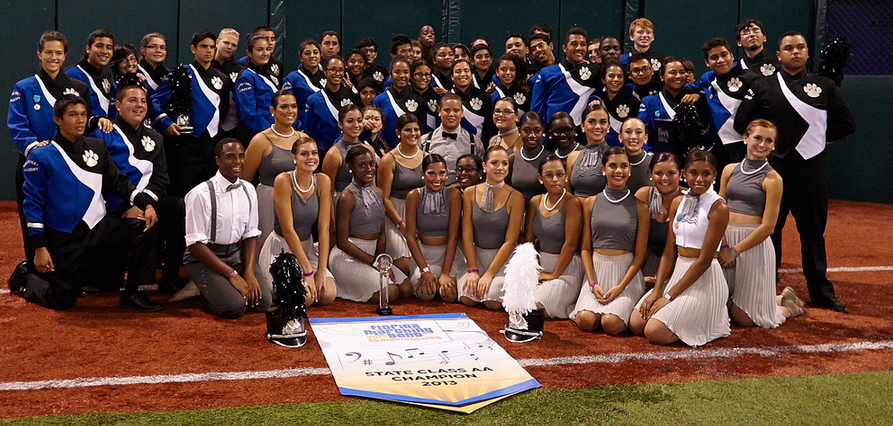 At the FMBC 2013 Semi-Finals Show Somerset  took 1st place by a 2 point leap ahead of the other bands in 2A along with best color guard, music and visual performance. 
 fOR ALL 2013 SEASON INFO AND ACCOMPLISHMENTS CHECK OUT 'THE HOUSE' TAB UNDER 'ACHIEVEMENTS'
~All  FBA Band, Arts Conservatory Band, Jazz Band and Winterguard rehearsals/performances are on the events calendar below.....
Fee Due Dates!
 2013 Winterguard Payments: 
Members Are expected to pay on or before dates scheduled. 
~Payment 1- Varsity: $125, Junior Varsity: $80 *Thursday November 21, 2013: 
~Payment 2- Varsity: $125, Junior Varsity: $80 + $80 tracksuit if needed *Thursday December 12, 2013
~Payment 3- Varsity: $125 *Thursday January 9, 2014
Cash excepted or checks payable to: "Panther Band Booster Club" 
 GOOOO PANTHERS!
Upcoming Events/Performances!
~January 24 Flanagan Family & Friends night (V & JV)
~January 25 Varisty SFWGA Premier at Santaluces HS
~ February 1 V & JV West Broward Competition
~February 21 & 22 FBA Solo & Ensemble
~February 22 V & JV Flanagan Competition
~March 1 Varsity Stoneman Douglas Competition
~March 3 Band Practice Dress Rehearsal
~March 13/14 FBA Ensemble Concert Band
~March 15 Varsity SFWGA Prelims Jupiter HS
~March 21 SAC Rehearsal
~March 21-23 Varsity WGI Orlando
~March 29 Varsity SFWGA Finals Park Vista HS
 **For all dates and events check the calendar!**