Tatiana Ortega- Director of Bands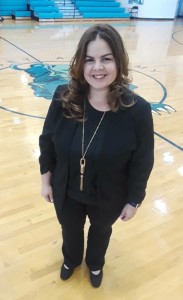 Mrs. Tatiana Ortega was born in San Jose, Costa Rica. Raised in the Florida Keys, she attended Coral Shores High School and was part of the various band programs including Marching Band, Concert Band and Jazz Band. Her love for music led her to Florida International University where she majored in Music Education. She studied trumpet under the world renowned James Hacker and was part of the Marching Band, Brass Choir, Symphonic Band and Wind Ensemble at FIU. She graduated in 2005 and started her teaching career at Somerset Academy.
Mrs. Ortega has been at Somerset Academy for over ten years teaching various middle and high school music classes. She truly enjoys teaching band and believes she has a strong family at Somerset. Under her direction, the Somerset Academy band programs have had great success and growth over the years. The Somerset Academy Wind Ensemble earned straight superiors at FBA evaluations. The Somerset Academy Marching Band has consecutively earned superior ratings at MPA evaluations for five years. The marching band has also made state finals for four years and won the state title in 2013 at the FMBC State Competition.
Adriana Crespo- Director of Guards
Ms. Crespo began her color guard career at Miami Coral Park Senior High School. Once she graduated high school in 2006, she became an undergraduate student at Florida International University. While in college, she participated in the FIU marching band and winter guard programs. She also marched drum corps with the Boston Crusaders Drum and Bugle Corps during the summers of 2008 and 2009. After aging out of drum corps, Ms. Crespo began coaching the Somerset Academy color guard during their first year in 2009, the very first year the school had a color guard and a competitive marching band program. During her last semester at FIU before graduating in May 2011, she became a WGI bronze medalist with Braddock Independent World.  Ms. Crespo also marched the 2012 Inaugural parade for president Barack Obama with the Boston Crusaders in Washington, DC. Adriana is part of the faculty at Somerset Academy and currently teaches 6th grade World Cultures and Eurhythmics. Ms. Crespo is the director for the Middle/High guards of Somerset Academy as well as the Junior Panther Guard of Somerset Academy Elementary.